OPEN 7 DAYS – MELROSE PARK AND NOARLUNGA CENTRE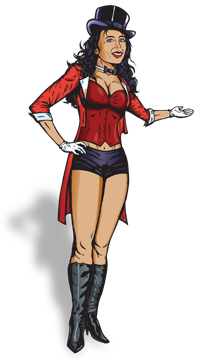 Australia's Favourite Costumes
It's about fun!
Play is built into our day. With every client that drops in comes a new idea, a new take on a theme and a unique vision. It's what we thrive on. Costuming makes us happy. When you look around our stores you'll see that we have thought of everything to perfect your creation. Complete costumes from leading brands right down to bobby pins and eyelash glue, it's all at Costume Land.
Select from one of our 'off the rack' costumes or create your own vision from a vast array of costuming elements.
Petticoats, tutus and kilts, stockings, leggings and leg warmers, even ruffle bum knickers. Create a visual impact with a muscle chest or latex prosthetics; select from a broad range of stage blood and scaring fluid, the possibilities are endless!
The party is over here you can sit with us!
Costume Land, a business born out of a desire to party! After throwing several Halloween parties and reaching the status of 'biggest recorded private Adelaide Halloween party' Ngairi McLaren had a track record. At the time it was close to impossible to purchase Halloween costumes, props and decorations locally leaving only the high risk, high price option of importing them herself. This in turn led to purchasing from a regular band of overseas companies to supply family and friends (along with filling one entire room with her own costume collection). The growing demand for costumes and the ever-increasing popularity of Halloween made it clear that there was a place for a dedicated costuming store in Adelaide and Costume Land was conceived.
"The best costume store in Adelaide, a staple for all customers"
Costume Land in Melrose Park since 2008
Opening in a modest way in February 2008 the first store on South Road, Melrose Park launched and was an immediate hit with fun loving costume party revellers. Costume Land quickly developed a name as the go-to for all things costuming and serious party fun, stocking an ever-increasing range of costumes, accessories, party props and decorations. The popularity of the store extended to all ages and all walks of life. Opening with just three change rooms the store quickly outgrew this and an expansion of an additional eight was completed.
Noarlunga Centre Costume Land opens

Chapter two of the Costume Land story feeds the desire to serve the customer with the opening of a second store at Noarlunga Centre. Starting with a clean sheet and with the learning of the Melrose Park store behind us, Store 2 is our proudest moment; it is truly world class in the costuming industry.
Endless First Impressions
Make an immediate and powerful visual statement with Australia's Favourite Costumes! Your desire is all the motivation we need. We are Costume Land, where you can "Be who you want to be!" So call in, let's create something great together and recreate your look over and over.
Whether you're part of a dance or drama group or simply want to change your hairstyle with a wig, Costume Land can help you achieve the look you desire.
We're open seven days a week at Melrose Park and Noarlunga Centre with off-street parking at both locations. So what are you waiting for?